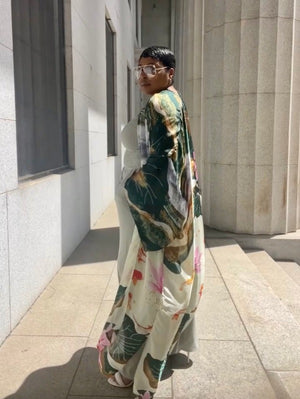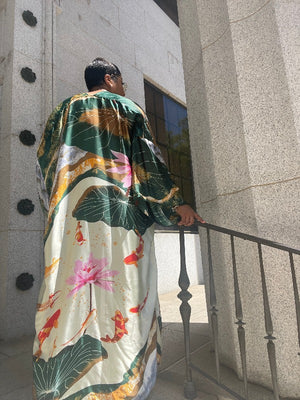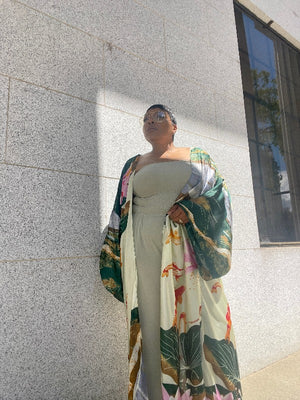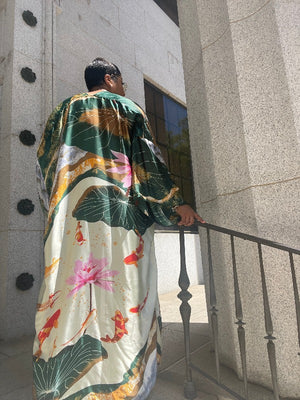 A kimono that fits not only small, medium, and large; but XL, 2X, and 3X... Oh my! 
You need to find a cute coverup! What you find is always cute, but never in your size, not the right fabric, the colors aren't vibrant, and you want a true statement pieces!
The pieces you find locally, just ain't it, the quality don't match the price, and this is the last coverup on the rack... No, you're not trying to bump into your twin! 
Koi Maxi Kimono is an oversized kimono that fit up to a size 3X comfortably. Desgined using a flowy polyester fabic, with vibrant hues of: green, pink, mustard, and orange frabic that displays a beautiful koi fish pond... A true statement piece! 
Added Information:
This Kimono is One -Size, that fit up to a size 3X comfortably
Ankle to heel length 
Customer Recommendation: If you are 5'5 or short, you will need alterations for the length 
Hand wash cold / hang dry or use delicate cycle 
Model is 5'6
Model wear a size L/XL clothing