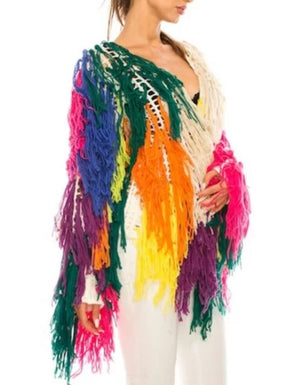 An Open Road and Coachella Mode!
This cardigan is for the bold souls that love a splash of color in their everyday wardrobe! It is carefully knitted with a fusion of gorgeous colors ranging from blue to yellow to green and they were exclusively extracted from the rainbow to make sure you stay flamboyant at all times! It's got a fringe detailing all around with sleeves up to your wrist. 
Model Specifications / Additional Info:
Model is wearing S/M
Model is 5'5
Measurements: 36-26-38
Cardigan runs true to size
Had to get it!
Im the type of person that loves uniques pieces and when I seen this and tried it on, I had to have it. It feels comfortable on your skin. It's a head turner. You can change up your outfits because of the multicolors. Can't go wrong with crotchet. Loving it!
Thank you so much!!! We couldn't agree with you more! The vibrant multi fringes caught our eye too… and just like you, we had to add this head-turning cardigan to our collection! We can't wait to see you rock this pieces, we know you're gonna look
This Outfit is so sexy! Can't wait to wear it!!