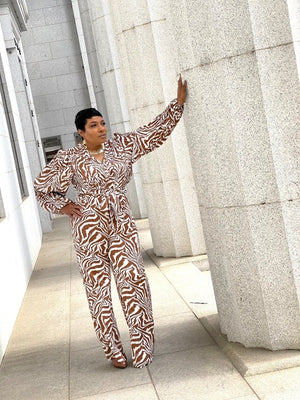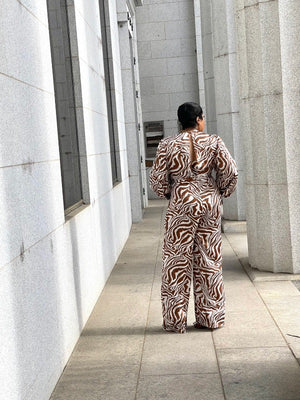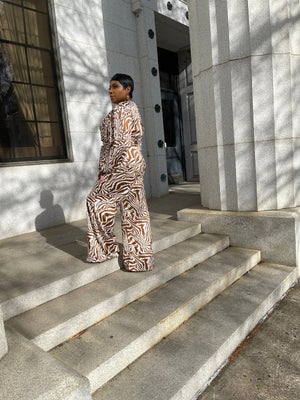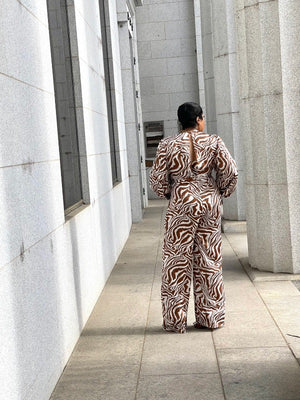 COCO Mademoiselle | Zebra Print Jumpsuit
Designed  for  the  Woman  Who  Hates  Blending  In!
The  Coco  Mademoiselle  jumpsuit  features  an unconventional  yet  fabulous  cinnamon-brown  zebra  print  that  draws  the  eye  in.  The  pleated  top hugs  your  torso  perfectly  and  extends  into  a  sophisticated  wide-leg  pant,  while  the  matching self-tie  belt  cinches  your  waist  to  highlight  your  curves.  Finished  with  pleated  puff  sleeves,  this animal  print  jumpsuit  creates  a  bold,  playful  silhouette  that  you'll  love. It  also  features  a  cute  elongated  keyhole  at  the  back  that's  sure  to  turn  some  heads  wherever you  go!
Model & Add'l COCO Mademoiselle Jumpsuit Details
The model is wearing an XL
Height: 5-6
Measurements: 36-36-40
Fabric type: Polyester
Care recommendations: Wash separately / Hand wash cold / No iron / No bleach / Hang or line dry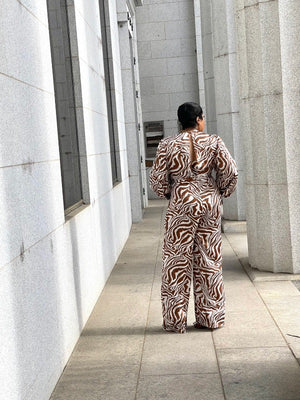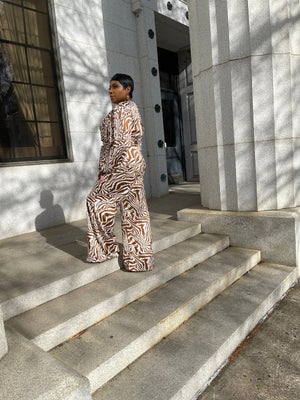 Zebra Print Jumpsuit. Love it
I love the fit, it very comfortable.
I can't wait to wear it out on a special occasion
Thank you,, we're glad you love it!♥️ When you wear your jumpsuit on your special day, share your pictures with us… we would love to have them on our social media page!
Classy
Ordered this outfit for a photo shoot. I loved the look and this is a beautiful piece .wish I could submit a picture
Thank you so much Javon!!! I'm so glad you loved it! You can add a photo as well... I will send you an email to add your photo and we will also add your photo to our social media pages! Much Love, Sharon